Another Nelson Improvision
I hesitated to post this story. After reading, "How We Became Redneck Ranchers," you may already wonder about our crazy lifestyle. You may even picture my home as held together with a combination of duct tape, wire and spit. It's not really so. Well, not everywhere.
We've been having some issues with the dryer. When the weather is cold, the thing won't start. It tries, but like a car that's not quite getting enough gas, it doesn't turn over.
Funny thing, this only happens when it's cold. So, being the brilliant folks we are, we put a space heater near the dryer and warmed the area so we could make it start.
This was supposed to be temporary. But in our busy lives, temporary can ride very close to permanent.
After months of this "temporary solution," our friend Brian came over to help my husband rewire the outlet. How disappointing to find it wasn't the wiring. Turns out, something in the panel (looks too much like a computer for my liking) is the elusive piece that isn't quite making connection.
The guys discovered that a blast from a hairdryer was just the thing to fix the problem.
So that brings me to their solution: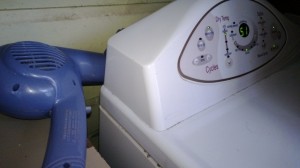 This is what you'll find in my porch, a clothes dryer with a hair dryer attached to the back. I have to turn on the blow dryer a few minutes, then start the clothes dryer.
Silly, but it works, and it didn't cost a fortune.
Maybe it's tacky, but doesn't frugal have a better ring?
I'm just glad we don't live in town!
So, tell me the truth. Do you have any odd fixes in your house?