This will be the last Christmas with all of my kiddos considered children. Next year my oldest will be eighteen and will already have made his first vote in a presidential election. I don't know where the time went. Sometimes he walks in the room, and I have to do a double take. My 21 inch baby has turned into a 6′ 3″ man.
It's always the oldest and the youngest that make me feel nostalgic.
A couple of days ago I was wrestling with the fact that my littlest baby will soon be entering the middle school years and will be on her first mission trip this coming summer. It's too soon!
Step back in time with me and see a few of our earliest Christmas cards.
1999
2000
2002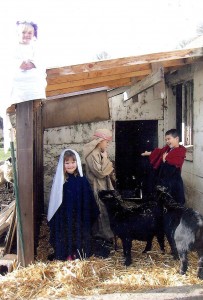 2003