Adventures of the One-handed Writer
"I have to write."
I hear this from writers over and over again. I'll be honest, I didn't believe it. I mean, I love to write, but come on, I could stand a vacation. Then came the car accident.
A couple weeks ago I was driving my cute little Honda Civic down the road when another driver pulled out in front of me and we had one of those slow motion, crunching kind of collision. To the witnesses on the side of the road, I don't think there was anything slow-motion about it. But you know how the brain works, the scariest moments, even if only a fraction of a second, seem to go on for the longest time.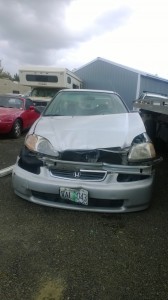 What a blessing to find out that my girls and my other passenger were fine. And for the most part, I thought I was too. Except there was this ache in my pinky. And as the adrenaline began to wear off, the pain spread across my hand.
Two days later, I found myself sporting a bright pink cast to protect my broken wrist and sprained fingers. The worst part is not being able type.
You may be wondering how I'm writing this blog post. Am I really typing it out one letter at a time? Am I torturing one of my children by making them take my dictation?
Nope.
Today's rambling comes to you through Dragon Naturally Speaking. The program and I haven't become fast friends as of yet, but we're communicating better than we were a week ago. Maybe by the time I actually get my hand back, the Dragon and I will no longer wants to part ways. But I don't really think that will be the case.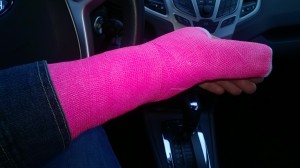 So far our biggest argument is about how the Dragon insists upon typing out every word I scream at him when we argue.
Back to my original point. I was wrong. I have to write! Even if it means talking to myself in my empty living room, and hoping some software understands what I'm trying to say. And even if it means pecking out one letter at a time. Somehow, writing has become part of my identity.
And maybe there's something else to learn. I will not be finishing the edits on my manuscript by the end of November, as I'd planned. The biography I'm working on for an exceptional woman, will not be printed this month. My floor will not be swept. Dishes will remain in the sink. And my bed, I think my bed may be lumpy through the whole process.
As annoying as this may be, I can't help but think of how much worse it could have been. My girls and my other passenger came out of the accident with only seatbelt bruises. Thank God for seatbelts and well-made cars.
Two weeks later, I have a new car. It's not cute and zippy, like the one that got munched, but it starts every time I turn the key. The other driver's insurance is covering all our medical expenses. And casts come bright pink. The weather in Oregon has been unusually sunny this October, and I have time to walk in it. Last night I even managed to play pinochle.
Thanks for listening to me ramble on. A hope your day is blessed.
Christina