This is Why I Love Research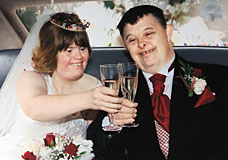 I received a comment from one of my wonderful critique partners today. She questioned part of my story, and rightly so. I hadn't done enough research. Funny thing is, I love the research, so I got right on with it.
The storyline has two people with Down's Syndrome planning to be married. But is that reasonable? I know of a couple locally that are married, and I assumed that marriage among adults with Down's Syndrome was a regular occurrence.
I'm happy to report that after searching the internet, I found some of the most beautiful loves stories. My favorite is the story of Paul and Andrea. They were the first couple with Down's Syndrome to marry in the UK. Check out their story.
Below is a trailer for the documentary, Monica and David.
Enjoy!